Just over a year and a half ago when the first lockdown happened, we were in trouble. Overnight face to face workshops had stopped and with it, most of the work we run. I am sure many of you have similar stories
Our face to face workshops have been slowly starting up again, and some of you have been asking what we have been up to…
Working is the simple answer, very hard. Some of you have joined us on our virtual and video workshops for First Campus, Rhondda Cynon Taff Council, Blaenau Gwent Youth Service or on our own website. We are back running face to face workshops with many of these clients, including workshops with The Children's University in Cardiff which is really exciting. You will also be pleased to know that we are also planning to start our Cardiff bookable workshops from our website very soon.
You may know that as well as teaching we produce animation and illustration and when we are not teaching that is what we do. We thought we would share a couple of the projects we have been working on in the last few months.
Comics for CADW
Earlier this year we finished a really exciting project creating comics for CADW. They are being used as part of their CADW Creators project. From a rough script we developed, designed and illustrated a series of comics in Welsh and English about the English Civil War, Llewelyn the Great, The War of the Roses, the Marcher Lords and more. We had an amazing time bringing these comics to life and are please that CADW have asked us to develop more comics in the next few months.
If you would like to see the comics please visit the CADW website here: Cadw Cartoons | Cadw (gov.wales)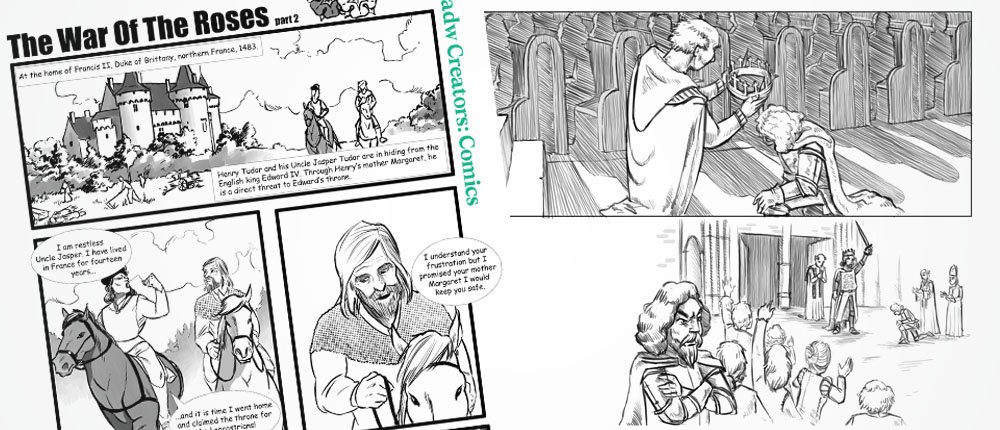 Animated Poems – First Campus
The adult learner course in Creative writing and Animation was one of the many successful virtual projects run by First Campus during the lockdown. At Turnip Starfish we were invited to teach the animation section of the project and then produce and animate the poems that were written by the adult learners.
We are really excited to announce that we are in the final stages of animating 12 poems all with original designs. The premiere screening of these poems will be in December 2021.
Want to find out more about First Campus: First Campus, Exciting and Challenging Activities for Pupils in Wales
5/10/2021